Brake Pads are the essential part of vehicle systems and require a constant repair and maintenance as the life of riders is at stake if something goes wrong with brake pads. Always arrange for the complete brake service before a long ride and for this you can consult the brake specialist and get Brake Pad replacement service in Auckland.
A study is conducted by Global Brake Pads Market Professionals about the brake pads and a report for the year 2018 has been released by HTF MI, evaluating the brake pad market in 2018. Report has also highlighted opportunities, risk side analysis, and leveraged with strategic and tactical decision making support. This report also provides forecast analysis by production, Sales, Supply, Demand, Key players and forecast up to year 2023.
The study provides information on market trends and development, drivers, capacities, technologies, and on the changing capital structure of the Global Pads Market.
Those who are involved in the Brake Pads industry or thinking of joining this trade, then this study will provide them the comprehensive outlook of the Brake pad market. Those involved with Brake pad business this report provide up to date knowledge segmented by Vehicles OEM Industry and Vehicles Aftermath industry, Non-asbestos Organic Brake pads, Low Metallic NAO Brake Pads, Semi Metallic Brake Pads and Ceramic Brake Pads and major players.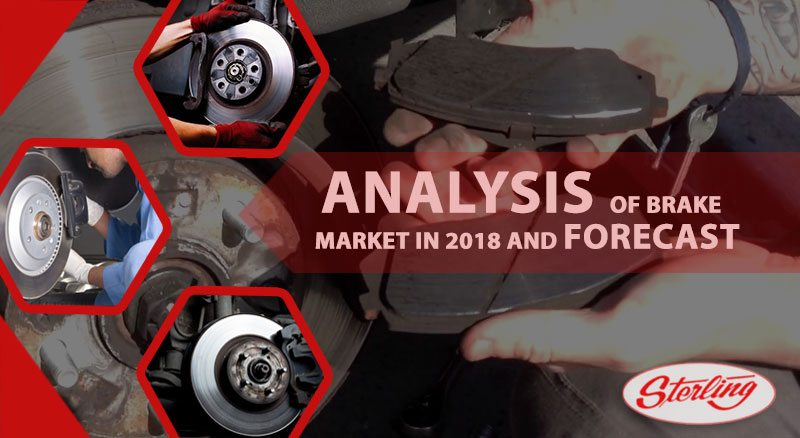 Furthermore, the report additionally caters the detailed statistics about the vital elements which include drivers and restraining factors which will define the future growth of the market.
Report also includes the opportunities available in micro markets for stakeholders to invest, detailed analysis of competitive landscape and product services of the key players.
For each region, market size and end users are analyzed as well as segments markets by types, applications and companies For Global version of Brake Pads Market analysis is provided for major regions like North America, Europe, Asia Pacific, South America and Middle East and Africa.
What Key Answers Captured in study of the report include?
Strategies adopted by big players in the regional market,

Which country will see steep rise in CAGR and Y-O-Y growth,

Expected size of market in next five years,

What is market feasibility for the long term investment,

Opportunities provided by country to new players and existing players in the market,

Factors driving demand for product/service in near future,

Impact analysis of various factors in the Global Brake Pads market growth

The recent trends in the regional market and how successful they are.
There are 15 Chapters to display the Global Brake Pads Market. In the report covering various aspects with executive summary describing Definition, Specifications and Classification of Global Brake pads market region wise and various other to display Research methodology and techniques and Market trend analysis, Global Brake Pads Market sales channels, distributors traders, dealers, Research findings etc.
It is of utmost important for the car riders to make sure that the brakes are in best working condition. A thorough brake repair service requires not only a simple inspection but a complete check up of the braking system including brake pad or shoes inspection and replacement if there is excessive wear , along with inspection and upgrading/ replacement of brake calipers, examining/replacing wheel bearing, brake line inspection and complete cleaning and washing of brake systems. For getting complete check of brake and Brake replacement service in Auckland, or for any requirement of brake parts in Christchurch you can call Sterling Clutch & Brake @ 09 636 4919 or mail your query at http://Sterlingbrake.co.nz/
Finding it difficult to choose an automobile service nearby? It is a common problem for the car owners. Though most of the car owners in New Zealand prefer to take their car to a nearest auto repairing shop, there are many people who prefer to choose the car dealers as well.
There are fair reasons why people choose to depend on the independent auto shops in their local area. The most common reason is the exclusive assistances they get from the local automobile shops. If it's still an arguable topic for you, and the local clutch and brake repair service in Auckland and the other leading cities in NZ are untrustworthy to you; here we show you the reasons to trust them.   
Teaming up with any local automobile service provider for your car servicing or repair, you can easily escape extra expenses. There's a valid reason behind the inexpensive servicing, and repairing of auto parts, clutch and brake pad replacement in independent auto shops. These local service stations are typically set in smaller spaces (compared to auto repair service dealers), less number of employees (number is less, not efficiency) causing the local shops have lower overhead expenses. It helps them to charge lower cost than any featured auto service dealer in Auckland.  
Basic Maintenance at Convenient Budget
For basic maintenance and minor repairing or replacement, who can be better than a reliable local area independent automobile service centre? Considering their servicing costs, dealer service centres charge much higher. When you depend on someone like Sterling Brakes, you make bigger savings certainly.
Every independent auto repair shop, starting from Auckland to Christchurch, is in hard competition to create own position and customer trail. This makes them work tirelessly assuring excellent quality and unmatched customer support. Offering best possible service within most competitive pricing is another outcome of this high competition market. For every smart service buyer, this is a great opportunity to take the best out the service provider.
Note: It's also up to you somewhat in finding out the most reliable service provider near you!
In any independent local shop, the mechanics work closely their customers. There are fewer formalities and more direct communication. In such automobile repairing shops, you are proposed with a homely comfort that you won't experience at any dealership company. The mechanics are highly professional in their work, but friendlier in communication.
So, these are the basic reasons (we think!) that make people depend on the local automobile service providers like SterlingBrakes. We assure you get the best service in best price in Auckland, Wellington, Christchurch or Dunedin or any other city in New Zealand.